Micro Edge Shear Cutter with Tapered Head
Their machine-ground symmetrical edge angles deliver a consistent Micro EDGE cut result, suitable for fine cutting work on sensitive electronics and precious metals, with a tapered head that facilitates access to compact spaces.
Perfect for jewellery, watchmaking, fine mechanics, radio technicians, industrial electricians, mechatronics engineers, and electronics engineers.
The bypass cutting action mitigates the impact on the workpiece (Cu max. ø1.6 mm; Fe max. ø1 mm) to deliver a clean, flat cut.
Micro EDGE cut: Expert shear cutting technology and a controlled edge misalignment of 0.2 mm deliver a clean, precise cut on even the thinnest wires.
High-performance alloy steel body for excellent durability and long-lasting performance, with precision-ground cutting edges that are induction-hardened at 63-65 HRC.
Return spring and opening limiter for smooth operation that helps minimize hand fatigue.
Bi-material and ESD-safe dissipative handles eliminate electrostatic buildup and permit a slow charge equalization.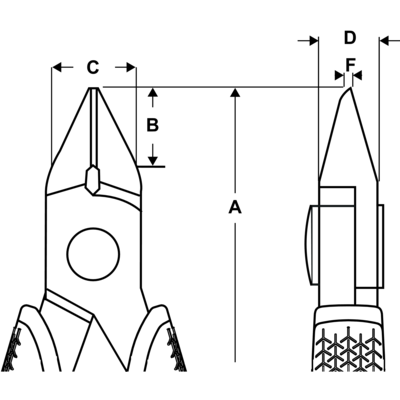 Download PDF